Click on the pictures below to open a new window and have a closer look. Remember, if you don't see the item you have in mind, contact us with your idea.
Large Western Style Shoulder Bag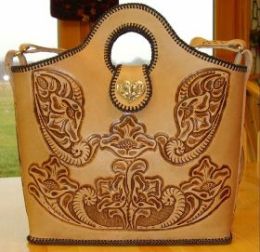 If you fill this brute up, it might tip you over. This shoulder bag is assembled from thick saddle skirting, making it tough enough to carry the load. Measuring 12"x10"x5", that load can be significant. It features a western, heart shaped clasp and leather hand laced border. $229.95 (unlined)*
---
Cupcake Purse & Checkbook Cover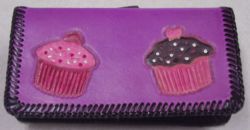 This matching set was custom designed for a lover of all things cupcake. We would be happy to bring your ideas into colorful reality.
---
Tri-fold Wallet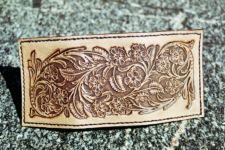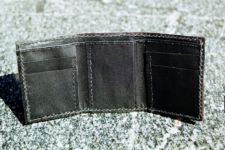 Our western style trifold wallet measure 4"x9" open and folds to 4"x3". The thickness depends on how much you stuff it with. There are seven card pockets and a full length compartment for bills and larger items. The exterior can be hand stitched or laced, floral, basketweave, or border tooled, and even personalized. An insert is also available for photos. $73.85*
---
Checkbook Cover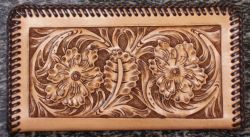 Express your taste in western style with this hand tooled checkbook cover. It has two pockets for holding a register and a checkbook. An insert is available for duplicate style checks. Tooled, stitched, laced, or personalized to your choices. The checkbook cover pictured here is hand tooled with a Sheridan style floral design. Measures 7"x3 1/2" when closed. $71.30*

A Deluxe Interior is also available which has room for credit cards, cash, and a pen.
*Prices are as pictured and do not include shipping & handling or tax(Wyoming residents). Options such as different tooling patterns, personalization, sewing/lacing, colors, lining, or inserts may increase or decrease price. Contact us and we will provide a free quote for your options. Some items will require a non-refundable deposit.

© 2009 - 2012 Flatiron Mercantile. All rights reserved.