In Stock and Ready to Ship
The items below are complete and ready to ship. Unless otherwise noted, these are single items and the picture is of the actual piece. Contact us at orders@flatironmercantile.com. We will send you an invoice and you can choose how you want to pay; credit card, PayPal, check, or Money Order. In the unfortunate case that the item you want has been sold, we will provide you with an estimate of how long it will take for a new piece to be made and ready to ship. We do our best to label items "Sold" as soon as they are purchased, however, it is possible that the item you want may have already been sold. If that happens, any of the pieces on this page can be reproduced, but shipment will depend on our current backlog of orders.
Click on the pictures below to open a new window and have a closer look. Remember, if you don't see the item you have in mind, contact us with your idea.
Credit Card Wallet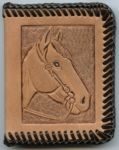 A small wallet (4.25"x3.25") to hold your credit cards. The dark brown interior has four slots to hold credit/debit cards or IDs. The finish is antiqued oak and the lacing is dark brown. $55.00.*
*Prices are as pictured and do not include shipping & handling or tax(Wyoming residents).

© 2009-2013 Flatiron Mercantile. All rights reserved.