Western Style Furniture
Let us help you create that ranch style decor with unique western style furniture and furnishings. We won't limit you to a catalog. We can create that one of a kind item to accent your western home. Contact us with your idea, sketch or picture and we will work with you to design a custom furnishing for your piece of the West.
Click on the pictures below to open a new window and have a closer look. Remember, if you don't see the item you have in mind, contact us with your idea.
Small, Tooled Leather Table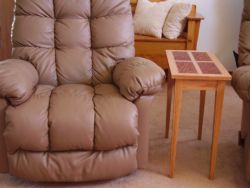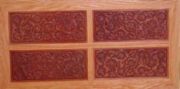 This western style, oak table is 24" tall and the top measures 24" x 12". The top is inlaid with 4 hand tooled leather panels and the base is assembled with sliding dovetails. The top is fixed, however, as an option it can be hinged to reveal a compartment within the base. We can also make a set that includes a matching coffee table and a shorter, square-topped couch table. Throw in a leather inlaid Table Lamp and our Western Style Pendulum Clock to complete your Ranch decor. Remember, our items are made one at a time, so we can change the color of the stain or even discuss a change in dimensions. $379.59*.
Western, Wood and Tooled Leather Pendulum Clock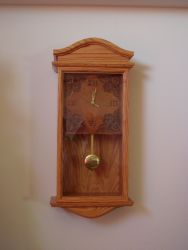 A unique wall clock that features a western style, tooled leather face and pendulum movement made in the United States. The clock pictured here features a battery operated movement, however, we can build it with a wound movement. Chimed movements are also an option. As with all of our custom, wood and leather furniture, this piece can be customized to your taste, including the color of wood and leather, tooling pattern, hands, and number style. The case measures 12" x 23" x 6 1/4" and overall dimensions are 14" x 31" x 7". $352.00*.
The items in the sets below are available individually.
Basic Western Office Set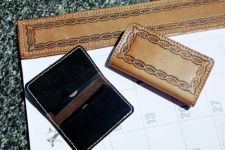 The office accessories pictured are border tooled in a southwest pattern. The Basic Western Office Set consists of a Desk Blotter (calendar not included), Calculator Holder, and Business Card Holder. $192.35*
---
Deluxe Western Office Set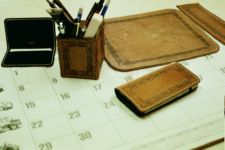 The Deluxe Western Office set includes the Basic Western Office Set plus a Mouse Pad (8 3/4"x10 1/4") and Pen/Pencil Cup. Both sets can be tooled with a western floral design, basketweave, or personalization. $267.95*
Additional Western Style Accessories
Not pictured, but also available are: Personalized Western Style Wood and Leather Nameplate, Western Style Note Paper Holder, Hand Tooled Leather Inbox, Tooled Leather Wastebasket, and a Leather Coaster. If there are other items you would like to have tooled to match your office's western decor, such as a leather briefcase or a tooled notebook, contact us and we'll work with you to create that ranch office feel.
*Prices are as pictured and do not include shipping & handling or tax(Wyoming residents). Options such as different tooling patterns, personalization, sewing/lacing, colors, lining, or inserts may increase or decrease price. Calculator Holder does not include calculator. Contact us and we will provide a free quote for your options. Some items will require a non-refundable deposit.

© 2009 - 2012 Flatiron Mercantile. All rights reserved.