Click on the pictures below to open a new window and have a closer look. Remember, if you don't see the item you have in mind, contact us with your idea.
Hand Tooled Western Style Belts
Our western style belts are all hand tooled on high quality, vegetable tanned leather. They can be personalized with your name or initials. All styles are available on men's and ladie's belts. You choose the pattern, color, hand laced, hand stitched, and lined or unlined.

The large basketweave pattern on the belt pictured here is antiqued in dark brown, unlined, and hand laced in black. $69.95.*

The hand tooled belt at left features a small floral pattern, stained black, unlined, and hand stitched with white thread. $94.95.*

This belt is hand stamped with a southwestern design and finished in brown. $39.95.*
The flame belt in natural finish, unlined, and hand stitched with black thread. $69.95.*

This Kid's Belt has been hand stamped with a music theme and personalized. Available with Hand Lacing, Hand Stitching, and same color options as the Adult Belts.

Another Child's Belt, this one features some cute little critters and is also personalized. Available with Hand Lacing, Hand Stitching, and same color options as the Adult Belts.
Our western style holsters and gun leather are custom made from vegetable tanned leather, hand stitched with waxed thread for strength. The hand tooled options for your holster, rifle sling, scabbard or gun case include a full floral pattern, a basketweave, personalization, or a simple border pattern. The cartridge loops on our belts are formed from a single strip of leather that is pulled through holes in the belt and then hand stitched in between each loop. This puts the stress on leather instead of the thread. There is a fair amount of debate about whether a holster should be lined or unlined. At Flatiron Mercantile, the choice is up to you. Contact us and we will discuss the advantages and disadvantages of lining your holster. As with all of our products, if you don't see exactly what you want, let us know. We'll work with you to make a custom leather piece you can be proud of.
Western Rifle Sling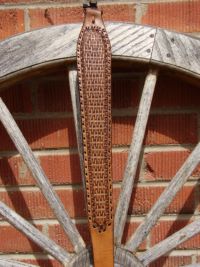 The basic Western Rifle Sling is lined in the shoulder area. Padding can also be added for those long hikes and heavy rifles. The sling can be hand tooled with various patterns or personalized. The small basketweave pattern shown starts at $79.95 (partially lined).*
---
Tooled Leather Pistol Case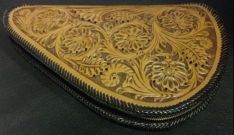 A Hand Tooled Leather Pistol Case is a stylish way to protect your handgun in transit. It is lined with authentic sheepskin. The Pistol Case pictured here features a hand tooled western floral pattern in antique oak and a black, hand-laced border. It can be made to fit your favorite handgun starting at $159.00. The one pictured here is $224.00.* Like all of our items, this case can be tooled to your specifications with a full floral pattern, basketweave, border stamping or personalization.
---
Tooled Western Belt and Holster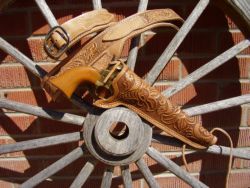 This hand tooled, western style holster was made to fit an 1861 Colt Navy. It features a low, gunslinger position and a leather lace hammer loop. There are no metal fasteners in the holster area to scratch the finish on your weapon. Hand stitched with waxed thread for strength and durability. $329.50 (unlined). Revolver Not Included.*
---
Western Style Cartridge Belt and Tooled Holster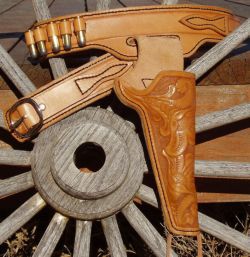 Western Style Holster for a single action 45 with a 4 1/2" barrel. Hand tooled floral pattern on holster only. The holster is placed low for a comfortable draw. Cartridge loops are pulled through the belt instead of simply sewn to the surface. $288.95 (unlined).*
Not pictured, but also availabe are: Western Style Scabbard, Hand Tooled Carrying Cases, Revolver Speed Loader Pouches, and Knife Sheaths.
*Prices are as pictured and do not include shipping & handling or tax(Wyoming residents). Options such as different tooling patterns, personalization, sewing/lacing, colors, lining, or number of cartridge loops may increase or decrease price. Contact us and we will provide a free quote for your options. Some items will require a non-refundable deposit.

© 2009 - 2012 Flatiron Mercantile. All rights reserved.